Stuffed crabs are one of my favorite crab dishes. Boiled, bisque, au gratin or stuffed, we just love em'. So here is a stuffed crab recipe that is not only for stuffed crab, but, can be used for crab patties (boulettes) and even crab casserole.
This is a 50+ year old stuffed crab recipe that comes from my dear dad that I'm sure my mother perfected so he could brag about it! (what's new?). Back in the 60's crabs were just easy to get, and, we had a slew of them. We would boil a couple of bushels of them, eat all we could, and then that night, or the very next day, we'd peel the rest to make stuffed crabs. Now listen, we didn't have a choice, it was peel or we didn't eat!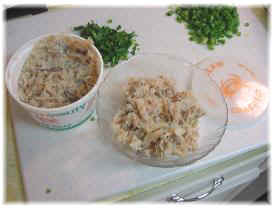 Okay, let's get to it. This recipe will take care of one pound of crab meat.
This recipe will make about a dozen stuffed crabs depending on the size of the shells You can also make your own little fake shells with heavy duty aluminum foil, or buy the ones at the grocery. If you happen to boil your own crabs just clean out some of the shells and use those (the original way).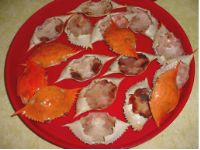 Prepare the following:
1 - cup onion chopped fine
1/2 cup celery chopped fine
1/3 cup bell pepper chopped fine.
3 cloves garlic chopped fine
1/4 lb. (1 stick) butter or oleo (Parkay)
1/3 cup fresh chopped parsley (save for last)
1/2 cup bread crumbs (save for last)
1 sm. can (5 oz.) evaporated milk ("Pet milk" is what we call it) and 1 egg, mix together well.
Five slices of "Evangeline Maid Bread"... or your favorite... (take the crust off)...
Break the bread in small pieces and soak it in the Pet Milk. Just put this on the side for now.
In a pan melt butter, add onions and sauté for 5 minutes (med-low fire). Add celery and bell pepper and sauté another 15 minutes. Add garlic, sauté for another five minutes, stir and then add the following.
Crab meat (1 lb.)
1/2 cup green onions
1/4 Tsp salt
1/4 Tsp black pepper
1/4 Tsp Creole Seasoning
1 Tbs. Worcestershire (if you double the recipe do not add more Worcestershire)
2 - 3 drops liquid crab boil (if the crab meat is from the grocery - if the meat is left over from a crab boil you don't need the liquid crab boil)
Sauté on low for about 10 minutes, stir often as this will burn fast... now taste it. If you find it a little too spicy it's actually "just right". Why?... because you'll be adding the soaked bread which will level out the seasoning.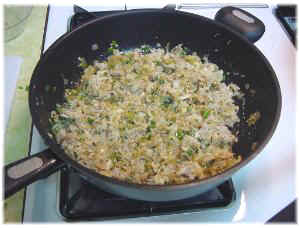 It's a tasting thing... taste as you finish it up.
Add the following:
1/2 cup bread crumbs
Soaked bread with milk
1/3 cup fresh chopped parsley
Stir well, simmer (on a low fire) for about 10 minutes and taste. Add seasonings as needed. Hey, everything is cooked, get the taste like you want it now.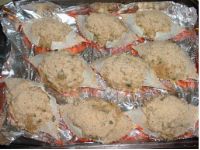 When you like the seasonings turn the fire off (put the oven on 400ºF now)
and let the crab mixture rest for about 15 minutes. Stuff the crabs shells. Now, sprinkle seasoned bread crumbs on top and put in the oven. Cook on 400ºF for about 20 minutes on the top rack. This is just to brown the bread crumbs, don't dry them out to brown the bread crumbs (just a warning).
This is a "rich" crab meat recipe. You can add more bread if you like to fill it out, but, you'll probably need a little more seasoning. Do it like you want.
Options
:
You can make a casserole with this, and, you can make this into patties and fry them,. it's optional. If you make patties dredge them in seasoned flour instead of bread crumbs.
Use this as a stuffing for Stuffed Flounder. If you prefer crawfish use that instead of crab.
Make you own shells with foil...