Stuffed crab
mix needs a shell right? Well, we don't all get fresh crabs to get the shells. Many of us just buy crab meat then have to figure out what we're going to do with it. You can make a simple fake or artificial crab shell that will work just fine using Heavy Duty Aluminum Foil. It only takes a minute or so to make one, and, when you're done with them just pitch em' in the trash.
Here we go....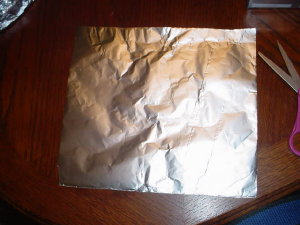 Tear off a sheet of foil about as long as it is wide (square). This is from a regular width roll, not the wide one.
Fold it into itself to the center.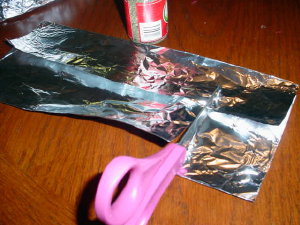 Cut about two inches off of one end. Once you get the hang of it just tear it off the roll 2" shorter.
Lay a spice bottle in the foil the same direction of the folds.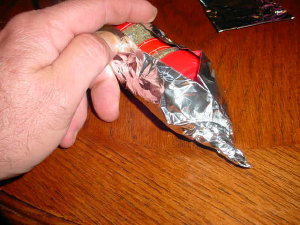 Gently twist the ends together pinching the tip tight. Don't twist it too tight near the bottle.
Gently lift out the seasoning bottle and shape the foil like you want it.
There it is....
Back to Articles