Cajun country has many favorites and this Crawfish Maque Choux (Mock Shoe) is one. Maque Choux is not a French phrase but is supposedly of American Indian origin. Corn and Tomatoes were always in abundance. Some call this Cajun Smothered Corn. You can also use canned whole kernel combined with cream style corn.
8 - whole ears of fresh corn
[Sub.] 4 - 12 oz. cans whole kernel, 1 can creamed
1 - lg. chopped onion
1/2 chopped bell pepper
1 stalk diced celery
2 cloves garlic minced
3/4 cup of chopped green onions
1 lb. peeled crawfish tails from Louisiana (rough chopped)
1 tbs. bacon grease or cooking oil
1 lg., very ripe homegrown tomato - peeled and cut up
[Sub.] 1 can stewed tomatoes
Salt & Pepper to taste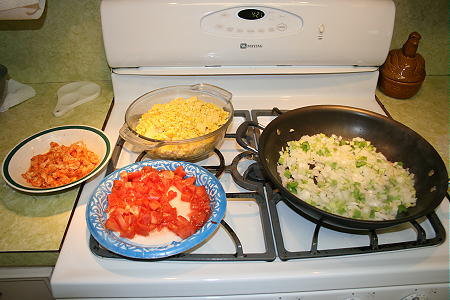 Shuck and clean corn. Get a bowl. Use a sharp knife to remove corn from cobs by cutting part way then making a second pass. Flip the knife edge to the dull side and scrape the cob to remove the corn milk.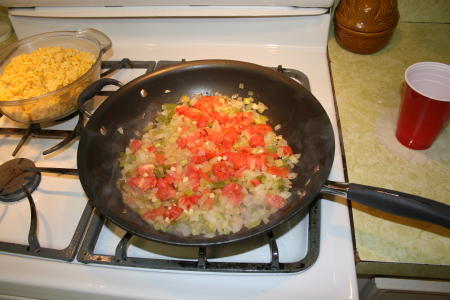 In a saucepan cook onion, bell pepper and celery and sauté till soft. Add corn, tomato and sprinkle some salt and pepper, cover, and smother about 45 minutes stirring occasionally (watch so it doesn't stick). You may have to add a little water here and there.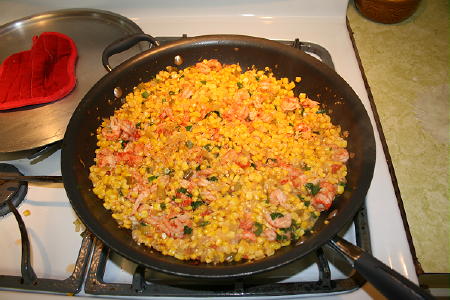 Add crawfish and green onions; cover and simmer on low about 10 minutes. Taste and re-season.
This may be served as a side for most pork dishes like chops or roast. In the "olden days" (I love that saying!) it was served over rice as a staple main dish.
Use what's left over and make
Maque Choux Cornbread
.