The southern favorite, cornbread, befits any hearty meal. I can say that we here in South Louisiana prepare it many different ways mostly by adding special ingredients. Cornbreads are usually of two types; Rough/course (savory) & Cake-like (sweet). Most folks like one type better than the other.
Before I get to my recipe I wanted to give you some variables with which you can be creative.
I've listed below some of the various ingredients you can add to "specialize" your cornbread. The quantities of special ingredients fit the basic (2 cup dry mix) cornbread recipe and you can add and subtract as your taste desires.
Vegetables
Onion - 1/2 cup chopped
Green Onion - 1/3 cup chopped
Bell Pepper - 1/4 cup chopped
Jalapeno - 2 medium diced
Garlic - 1 tsp. diced
Yams - 1/2 cup packed
Corn (whole or creamed) - 3/4 to 1 cup
Meats
Ground Beef - 1/2 lb. cooked
Smoked Sausage - 1 cup diced
Crawfish - 1/2 lb. cooked & chopped
Shrimp - 1/2 lb. cooked & chopped
Bacon - 1/3 cup diced
Cheese - 1 cup shredded or 2 slices
~~~~~~~~~~~~~~~~~~~~~~~~~~~~~~~~~~~~
Maque Choux Cornbread
(my recipe)
This recipe is for a basic cornbread recipe (2 cup dry mix).
On the stove in a skillet, prepare the following:
Ingredients:
1 tbs. butter, oil or bacon fat
1/2 medium onion diced
1/2 medium bell pepper diced
1 can whole kernel corn
4 leaves green onions diced
Pinch of granulated garlic
1/2 tsp. Creole seasoning
2 tsp. bacon bits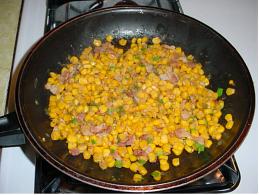 On a medium-low fire, melt butter and add onion and bell pepper and sauté for a few minutes. Add corn and continue to sauté until corn just starts to soften (if it browns a little that's okay). Lower fire and add remaining ingredients. Continue to sauté for about 5 minutes then let cool a little.
Prepare your cornbread recipe but add only the amount of oil that exceeds the amount used in the above preparation. In other words, if your recipe specifies 1¼ Tbs. of oil, add only the ¼ tbs. since you already used 1 tbs. in the corn mix.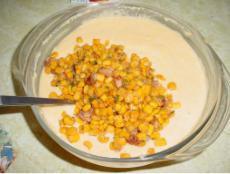 Combine the corn mix with the cornbread mix and stir well. Heat a 10" cast iron skillet coated inside with oil in a 400ºF pre-heated oven for about 3 minutes.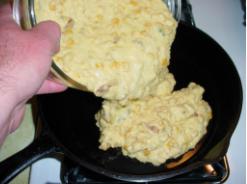 Take skillet out and pour in cornbread mixture.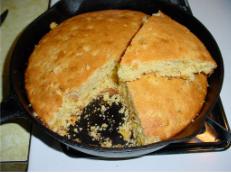 Bake at the required temperature and time.
Jazz it up like you wish!