Sausage Pasta cooks up real quick and is a hearty meal-in-one or good as a side dish. If you are a sausage lover you'll like this one!
1 - 2 links smoked sausage
1/2 med. onion sliced thin
1 Tbs. diced garlic
Handful of chopped bell pepper and green onions
Creole seasoning
Cream of mushroom soup (or your favorite)
Angel Hair Pasta (1" round)
1 tbs. butter (about)
Olive oil to coat bottom of pan
First put the water to boil for the pasta.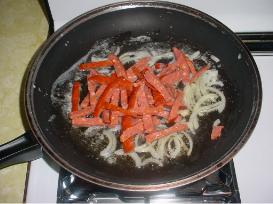 Cut link of sausage in 3 then slice in 1/4" pieces (see note below). Sauté onion a minute then add sausage. Simmer for about 10 minutes. Add garlic
Put the pasta to boil.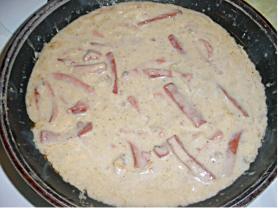 Add cream of mushroom soup and 1 can of water. If you want a thicker consistency use a half a can. Cover and cook on low fire until the soup is well blended. Stir occasionally so it doesn't burn. Taste and add seasoning as you see fit.
Raise fire and bring it to a boil for 30 seconds then lower fire back to low.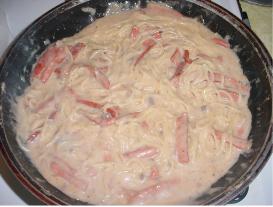 Rinse and drain cooked pasta and add to Soup mixture. Stir well and cover. Cook on low fire for 5 minutes.
Adjust seasonings as you like. If it looks a little too thick add small amounts of water until it's the consistency you like. Don't over thin the soup.
Note
: Depending on what kind of sausage you use you may want to boil it separately on the side before adding it to the pot. Some sausages have great amounts of grease in them, and, some have heavy flavors. You'll have to experiment with this. You can also use homemade sausage sliced regularly.
A little
Andouille Bread
goes well with this....