Andouille Bread
French Bread is at every corner in South Louisiana so it should be easy to understand why there are several ways to fix it. This is a quick and easy way to prepare a great snack bread, or as a part of a meal. In fact it's almost a meal in itself.
Here we go....
1 French bread
2 links andouille diced
1 med. onion diced
6 scallions diced
1 tbs. minced garlic
1/2 stick butter
1 Tbs. bacon grease
2-3 tbs. extra virgin olive oil
Salt and Pepper
The above will be cooked.....
Margarine or butter
E. V. (Extra Virgin) Olive Oil
Garlic Powder
Creole Seasoning
Grated cheese of your choice
In a pan melt the butter and bacon grease, add the olive oil and all of the cooking ingredients. Sauté on a med. fire until the onions are clear, about 10 minutes.
Slice the bread in half and spread a thin layer of margarine on it. Drizzle a little olive oil on it and spread the oil around with a butter knife. Sprinkle a little garlic powder and Creole seasoning.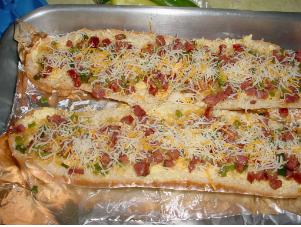 Top the bread with the cooked ingredients spreading evenly. Sprinkle a light coating of cheese over it all.
Bake at 400ºF for about 20 minutes or until edges of bread start to brown.
Cut in 2 inch wide pieces and serve.
Don't hesitate to substitute the Andouille with your favorite sausage.