Bonjour my fellow home chefs! Well... the kiddies are back in school, your money is sunk in college and now you're looking for a few tidbits to eat... ha! It's all fun... heck! Football season is here, shrimp season is here, you can still get Mr. Blue Claw and crawfish are creeping in, AND we're sneaking up on the Holidays.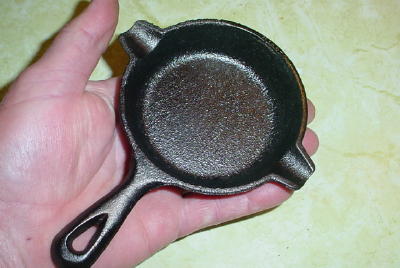 I have a decent collection of Black Iron pots. I keep the frying pans in one location and the deeper pots in another. Well, I had no idea of what was going on when I was fast asleep. Low and behold we have a new addition. Can you believe it?
I was thinking of using it to do hummingbird egg omelets.
Seafood after the storms
The seafood industry here is doing great! You can get what you want at a good price. Fishing is really doing back flips so if you're thinking about coming down... come on.
The latest Oyster fishing report here in Louisiana for this year indicates a proposed pre-Katrina level... good news there.
There's no shortage of crabs and shrimp either... mother nature redeems itself.
You won't hear about the storms here again... done with that.
Since Crabs are still in season I'll give you a recipe that our Niece Tammy gave us and cooked here not too long ago. This is a killer dish, and, get ready for RICH!
While we're on the crab subject you've probably seen my Fried Crab Claw recipe. There's a place out of Slidell that you can order crab claws ready to fry (unbattered). Pontchartrain Blue Crab.
Fudge
Here's an old fashioned fudge recipe to go with that Thanksgiving meal. Click here...
Pizza
Have you treated yourself to a Cajunized Pizza lately? We always need new ideas! Click here...
Frozen Onions
A lot of people use pre-chopped frozen onions. This is convenient but a little more expensive than using fresh chopped.
You can chop your own onions and freeze them in zipper bags. Just make sure you flatten the bag. The onions will release their juices after chopping so just bag them and get all the air out. If you don't blanch them first let them sit in the freezer for about an hour then work the bag around to keep them loose.
If you do blanch or steam them once they are frozen they will become almost a block of ice. Given that you don't want to freeze a great big bag; freeze them in the size you would normally use in one meal. Frozen onions will stay good about 6 months. If you chop some you can store them in the refrigerator in a sealed container for up to 7 days. Same holds true for fresh chopped onions from the store.
Onion facts to remember...
Yellow onions: Good for stews, gumbos, etc.
White onions: Use in Mexican foods and dips
Red / Purple Onions: Use to slice for sandwiches, fresh salads, and grilling.
Tabasco
We have a new book... Tabasco: An Illustrated History... the Tabasco legacy in pictures! Tabasco is the "International" hot sauce. The McIlhenny family has a rich history in creating this fine hot sauce and the tradition continues! You'll be surprised how it started.
You can find the book on Amazon and other great book stores. This is a great coffee table addition and a "must have" if you're from Louisiana. It is a hardcover and is well worth the cash! I got mine!
New Natural Gas Burner
I haven't tried this one but the theory and pictures do a lot to convince me that it works pretty close to that of a propane jet burner. This one hooks up to your natural gas line if you have natural gas running to your house. (you'll have to get the line run).
What's the difference between natural gas and propane you say? Each gas has a different BTU rating therefore needs different air to fuel ratios to burn properly. Enough science... they're different therefore the jet design is different. Anyway... here's the new fangled burner info. Burner Info.
Cast Iron Cookware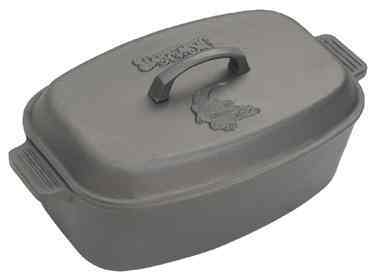 I was in a local grocery store (their initials are Piggly Wiggly) the other day and saw a display of cast iron cookware. I flipped the signal on, tapped the brake and turned right into that aisle... I saw the typical cast cookware but noticed something new... a cast iron roaster! Hmmmm, I said quietly to my self. We've relied on good old Magnalite to be our big roaster supplier for years. It was that or the black with white specks cheap roaster... sheet metal porcelain coated... you know what I mean. Well kiddo..,I found myself a real, true to life, what I've been looking for roaster. It's less than half the price of ALUMINUM!!! Right around $50. Hello... are you listening? This one is 18" long... there are no other ones so it's 18" or cut the ends off the meat to make it fit. Cajun Outdoor Cooking has them for sale online in case Piggly Wiggly isn't in your town.
Terminology:
Soux Chef: Actually Sous Chef: Assistant Chef... does most of the "hands on" stuff including direction of the crew, ordering, stocking, etc. Sous is French for Under. Can stand in for the Master Chef if needed.
Quick and Dirty Oyster Soup
Want to make a quick ,easy and small oyster soup? Here it is...
`````````````````````````````````````````````````````````````````````````
Advertisement--------------


(Click Above)
Louisiana Cookin' magazine is available on newsstands
and by subscription.
Advertisement--------------
`````````````````````````````````````````````````````````````````````````

Cooking Louisiana wishes the best to the men and women of the military and to their families. We thank you for your service to the people of the United States.
`````````````````````````````````````````````````````````````````````````
You can contribute
If you've go a subject you'd like me to research, or, you've done a little fact finding yourself, don't hesitate to contact me... this is about us, not me! Cooking is fun, and, that's what we do here... have fun cooking!
`````````````````````````````````````````````````````````````````````````
Till next time... eat well...be well.
*~~~~~~~~~~~~~~~~~~~~~~~~~~~~~*
Be sure to visit the "What's New" page to see all of the site's new recipes and additions.
*~~~~~~~~~~~~~~~~~~~~~~~~~~~~~*

As usual your privacy remains secure and your identity will not be sold or distributed to anyone.
Please forward this newsletter to your cooking friends.
Signing up for the Cooking Louisiana newsletter will keep you up to date on site changes, new recipes, and cooking info in general. Click here.
The Cooking Louisiana Newsletter is freely published every three months, or, when I get around to it.