Who Dat?
How can I not possibly put together a Super Bowl Newsletter with the Saints going to SUPER BOWL XLIV. Geaux Saints! If you're having a Super Bowl party like no other you'll want to prepare as much as possible beforehand.
Snacks
Black & Gold are the Theme colors so here we go... What's black? Chocolate is close, licorice is really black. Fritos, pretzels, pecans, nuts are close enough to gold. Design a Fleur-de-lis with the licorice on a tray and fill the different sections with a variety of nuts, chips and pretzels. Be creative but try not to go overboard with the salty stuff.
We'll also to a Cheese, Rotel and Ground beef dip to go with the dipping chips. Here's a homemade salsa recipe that is really good. Click here. Another good dip to go with crackers is the Crawfish Dip.
Finger Foods
Keep it simple folks... meats, starches and veggies and combinations thereof. Forget the colors... these are to keep a little food going into the stomach. Starches soak up some alcohol. That's good to keep the drinking in check. Salty foods make a person thirsty. I'm not a fool, many Saints fans will be celebrating, they need to get home safely and hopefully get up the next day to go to work.
Here's a few ideas....
Shrimp Bundles
Crab Bites
Hot Tamales
Cajun Egg Rolls

Now let me explain the Cajun egg roll recipe. You don't don't need to go through the big process. Get some cole slaw cut cabbage. Sauté a little trinity, add a little stewed tomatoes for the flavor. Cook for a little while, add the crawfish, shrimp or whatever, cool and make the egg rolls. This need not be complicated.
Spring Roll snacks are popular and quick to prepare. You can buy Spring Roll Pastry at any Asian grocery. You can use Won Ton wrappers also but they are thicker... either one will work and if you use spring roll pastry be sure you read up on how to use it. Spring pastry does not like a lot a liquid... remember that.
You can do these with boudin, small link sausage, hot dogs, rolled up ham, chicken nuggets, fish sticks and most any medley of vegetables (watch the water)... ! Dream up a concoction, throw it together, wrap it, fry it and it's done. Just be sure that whatever you wrap is already cooked, in other words, don't use raw meat or seafood and expect the frying to cook it; it's just too risky.
What's good about these finger foods is that you can prepare them days before and freeze. If you choose to do that, freeze them on a tray not touching each other. When they're frozen you can put them in a zipper bag. The Crab Bites recipe above uses Spring Pastry.
Topped French bread is also good. Throw a meat or seafood concoction together and, add it to sliced and buttered French bread and cover with some good cheeses. Bake, cool and cut with an electric knife.
Let's move on...
--------
The Games' End Meal.
No matter who wins (hopefully the Saints...sorry Colts fans) there needs to be a heart warming (or crying) dish to finish things off. A Gumbo, Chili or maybe a soup. All three can be cooked the day before.
Once again, prior preparation will make the event more enjoyable for you.
Enjoy the game, root for your team and please don't drink and drive.
Who Dat?
````````````````````````````````````````````````````````````````````````
What on earth is that contraption below?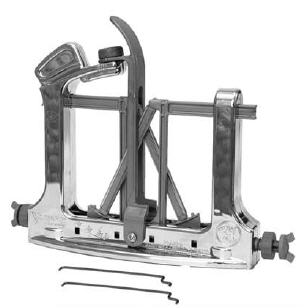 Some of you can guess and we'll get into it in the next newsletter...
````````````````````````````````````````````````````````````````````````
You can contribute
If you've go a subject you'd like me to research, or, you've done a little fact finding yourself, don't hesitate to contact me... this is about us, not me! Cooking is fun, and, that's what we do here... have fun cooking!
`````````````````````````````````````````````````````````````````````````
Till next time... eat well...be well.
*~~~~~~~~~~~~~~~~~~~~~~~~~~~~~*
Be sure to visit the "What's New" page to see all of the site's new recipes and additions.
*~~~~~~~~~~~~~~~~~~~~~~~~~~~~~*

As usual your privacy remains secure and your identity will not be sold or distributed to anyone.
Please forward this newsletter to your cooking friends.
Signing up for the Cooking Louisiana newsletter will keep you up to date on site changes, new recipes, and cooking info in general. Click here.
The Cooking Louisiana Newsletter is freely published every so often. When you get one, you get one!