The Contest is over as of 3/21/10
We Won the SUPER BOWL, can you believe it? I'm still pinching myself and instead of black and blue bruises they are black and gold! I'm still trying to get my farmer neighbor to stop his pigs from flying.
And here it is Mardi Gras... what better combination of events can there be? Okay, let's calm down.
So now... we get back to cooking, and, we sing "When the Saints Go Marching In" while we cook! Woo Hoo! I can't leave it alone, and I'm not! Ha! Qui Ca?
Now, before we get to the contest, check this out.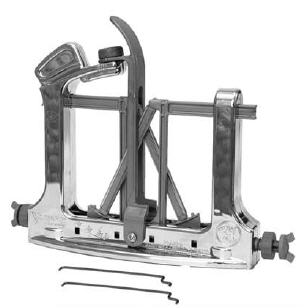 If you got my last Super Bowl newsletter you noticed I left with you a picture of a "contraption". That "contraption" is a knife sharpener. It's not just a knife sharpener...it's the best knife sharpener I have ever used in my 30+ years of cooking. I own just about every other "sharpening contraption" anyone has ever made and by far this is the best machine there is. Here's what's really great about it... once it's set up correctly, Mr., Miss and Mrs. cook can use it... not only "the man" of the family. We all want sharp knives for cooking right? This is the monkey people.
The Warthog V-Sharp XE Blade Sharpener is the name of the animal you see above... and, you know I wouldn't promote something if I didn't try it and it didn't work.
Here's the review... (click here) Then come back to check out the recipe contest..
This Recipe Contest is sponsored by Warthog V-Sharp.
Enter this contest to win a V-Sharp XE
Here are the Rules...
The V-Sharp Contest begins 2/12/10 and ends 3/21/10 (Sunday) at midnight.
This is not a "best of" contest, it's simply a "name in the hat" contest. When your name is picked I will email you and you have one week to respond. If I don't get an acknowledgment I will pick again and repeat the process until a winner is confirmed.
Only CookingLouisiana subscribers are eligible to enter.
Your recipe should be of Cajun origin of your own (don't go copy somebody else's recipe somewhere on the web... if I find out, you're disqualified). You will get one entry (in the hat) for each recipe you submit up to a limit of three (3) recipes. That's three entries.
More chances to win...!
Recruit three friends to subscribe to the CookingLouisiana newsletter and your name goes in the hat again. I'll accept up to three recruits from each current subscriber. That's three more chances.
A current subscriber (in this contest) is a person that subscribed before the contest ends (3/21/10). If you found this by a simple search just subscribe and enter before the deadline.
Here's how to recruit a new subscriber. Forward the email that you received this contest from on to your friend. Then tell them they must forward the email you sent them to me asking to subscribe to the newsletter. That way I know you recruited a new subscriber. Simple. I'll check your name in my current subscriber list to confirm, and add an entry to the contest hat, and, I'll add the new subscribers name into the hat also. The new subscriber can then submit recipes and new subscribers using the same contest rules. Each new subscriber only gets six entries no matter how far the emails go forward. You must be on my list of subscribers (old or new) before I'll give entry credits for you. In other words if you subscribe as a newbie I'll have already responded to you as being a current subscriber... which means your name is already on my list.
So there you go, each person has up to six chances to win... three recipes & three subscriber recruits are your potentials to win a V-Sharp XE. The XE is a $72 dollar machine and they're throwing in a set of fine honing stones (a $30+ dollar value). Do the math.
If you have a question about this contest, reply to the email address you received this from or jack@cookinglouisiana.com
If you have a question about any of the fine Warthog products you can email them at warthog.sharp(@)yahoo.com The @ is in parenthesis to prevent hacking on their site.

````````````````````````````````````````````````````````````````````````
That's it for this one folks... I hope you win! And if you do you will certainly enjoy the fine Warthog products.
````````````````````````````````````````````````````````````````````````
You can contribute
If you've go a subject you'd like me to research, or, you've done a little fact finding yourself, don't hesitate to contact me... this is about us, not me! Cooking is fun, and, that's what we do here... have fun cooking!
`````````````````````````````````````````````````````````````````````````
Till next time... eat well...be well.
*~~~~~~~~~~~~~~~~~~~~~~~~~~~~~*
Be sure to visit the "What's New" page to see all of the site's new recipes and additions.
*~~~~~~~~~~~~~~~~~~~~~~~~~~~~~*

As usual your privacy remains secure and your identity will not be sold or distributed to anyone.
Please forward this newsletter to your cooking friends.
Signing up for the Cooking Louisiana newsletter will keep you up to date on site changes, new recipes, and cooking info in general. Click here.
The Cooking Louisiana Newsletter is freely published every so often. When you get one, you get one!