Bonjour my fellow home chefs!
Sweating must be in season now.... how you cook dat?
The roll keeps popping out
I was sent an email the other day and thought I'd share it with you. You may have seen it already, but anyway. You how when you use aluminum foil and plastic wrap the entire roll of material often pops out? Then, after you pick it up off the floor, roll it all back up, and, you're done cussing you put it back on the box. Well, if you look on the sides of the box there is a little tab there that says something like this..."Push here to secure roll".
Why don't they push it for us?
White Squash Casserole
White Squash, or Paddy Pan Squash is a good squash that makes a really good casserole. My Father-in-law used to grow it as I do today. This recipe is not something you'll see in a restaurant but honestly it should be. Anyway, here the recipe and if you can get them just give it a try! White Squash Casserole Recipe.
Casseroles
You know what a Casserole is all about right? Or do you? Read it and see for yourself! Click here...
Google Ads
Each of the pages on my website has Google Ads. When you click on the Ads I make a few pennies; really... a few pennies. That's right; I'm not getting rich on this... it's just a hobby and the Google Ads pay for the website publication costs.
Anyway, Google has added a little feature to their Ads. It's a little Up and Down Arrow that allows you to see more ads that may be relevant to the page you are visiting. Each Ad column is limited to about 5 ads so this way you can see more if you wish. If you click on any of the Ads "thank you"! If you don't that's fine, I'm just glad you visit Cooking Louisiana... Thank You once more...

Salt
Salt is the food flavor enhancer that we all know so well. Some of us old timers know that you gargle with salted water and it helps a sore throat... How many more uses are there for salt? Check it out!
Lost the Rice Cooker Cup
I Lost the measuring cup for my rice cooker, I can't cook rice! OMG
Typically, rice cookers come with a measuring cup that you use to measure your un-cooked rice to put in a rice cooker. You put the desired amount of raw rice in the cooker, then, add water to the marked level on the cooking container and bingo... rice. Here's the deal... The "cooked rice" amount is what is specified by the rice cooker manufacturer, and, rice swells when it cooks (you already knew that!). If you cook 3/4 of a cup of raw rice you get 1 cup of cooked rice. If you loose that "precious cup" measure 3/4 of a cup of raw rice per cooked cup desired and you're home free! In other words, the cup that comes with the cooker actually holds 3/4 of a real cup; go ahead, test it out.
Outta Site
Here are some other great websites from Louisiana. Please visit them. We're all in this together.
Hot Cajun Recipes is a site that has many recipes and is organized quite well.
Cleaning Rusted Cast Iron Pots
I'm sure you know about properly seasoning a cast iron pot. If not you can go here. But have you ever had the case where you were given a pot, or even had one of yours picked up somewhere and it wound up being really rusty? Here's an article that will give you some advice on cleaning it up to get it ready to season. Click Here.
World Record Jambalaya
I was not in Gonzales Louisiana in 2007 when this World Record pot of Jambalaya was put together. A friend at work who attends the events sent me this. The picture below is pretty much the beginning of the huge Jambalaya. What is in the pot is only the sausage so I assume they're browning it. The ingredients are listed below the picture.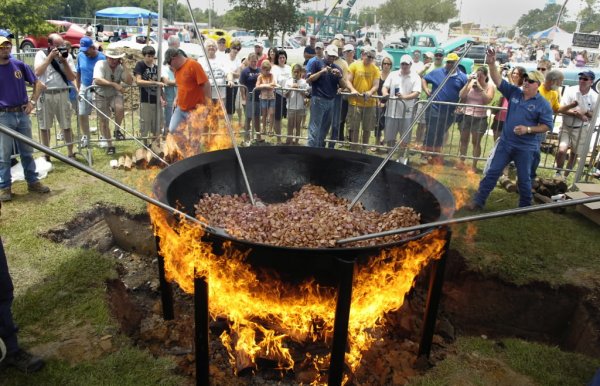 1,200 lbs. of pork Sausage
300 pounds of onions
3 gallons of salt
16 cups of red and black pepper
20 pounds of garlic
100 gallons of water
300 cups of rice
I don't even want to know the method!!!!
-------------------------
Terminology:
hacher [HAH SHEH] to chop up. viande hachée = ground meat.
`````````````````````````````````````````````````````````````````````````
Advertisement--------------


(Click Above)
Louisiana Cookin' magazine is available on newsstands
and by subscription.
Advertisement--------------
`````````````````````````````````````````````````````````````````````````

Cooking Louisiana wishes the best to the men and women of the military and to their families. We thank you for your service to the people of the United States.
`````````````````````````````````````````````````````````````````````````
You can contribute
If you've go a subject you'd like me to research, or, you've done a little fact finding yourself, don't hesitate to contact me... this is about us, not me! Cooking is fun, and, that's what we do here... have fun cooking!
`````````````````````````````````````````````````````````````````````````
Till next time... eat well...be well.
*~~~~~~~~~~~~~~~~~~~~~~~~~~~~~*
Be sure to visit the "What's New" page to see all of the site's new recipes and additions.
*~~~~~~~~~~~~~~~~~~~~~~~~~~~~~*

As usual your privacy remains secure and your identity will not be sold or distributed to anyone.
Please forward this newsletter to your cooking friends.
Signing up for the Cooking Louisiana newsletter will keep you up to date on site changes, new recipes, and cooking info in general. Click here.
The Cooking Louisiana Newsletter is freely published every so often. When you get one, you get one!