Bonjour my fellow home chefs! Sorry for the long wait on the newsletter, but, here I am again. I can't wait until I retire and just hang out with my wife and do this all the time...I guess I'll just wait.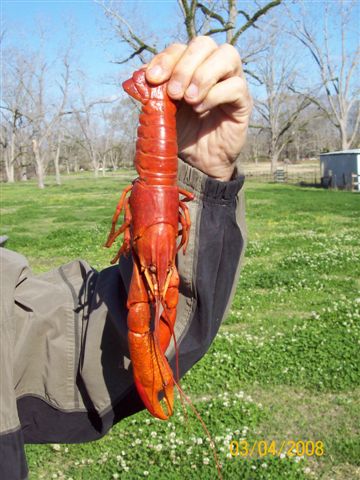 As you can well imagine crawfish season is in full swing. They've been a nice size but a little pricey because of fuel costs.
I received this email the other day showing pictures of some HUGE crawfish that were supposedly from Mexico. No mater where they are from they sure beat the size here in South Louisiana. Is the flavor there? Not sure.
In doing a little research I found a really good picture of some Red, White & Blue Crawfish. Check this out...
Pig Roast a la Cajun Microwave
We cooked a whole pig back in December for a military Christmas Party. I didn't have a rotisserie pit but did have access to a Cajun Microwave. Here's how it happened...
Pastalaya
You've heard of and read well here about Jambalaya. Well, split the name above phonetically and you'll plainly see that the starch moves from rice to pasta. Now some of you wouldn't even try this, and, to me there are some jambalaya's just wouldn't be successfully done. Why mess up a good jambalaya you ask? Well us Cajuns like to recreate some things because all things static just sometimes become "old hat". See a recipe here!
----------------------------
Check out the What's New Page for other recipe additions since the last Newsletter
----------------------------
Oil-less Turkey Fryer
Ok, here's one I'm just not too keen on, but I haven't' eaten anything cooked in it. If you have a first hand taste test experience with this machinery let me know, I'd like to know more. Home Depot has them and they're about $130. Being a Cajun I compare this to oil-less cracklin'... hmmm...that's just me. Look here!
Cracklin
Well, I finally ran into someone that would tell me the Cracklin cooking method. It's more involved than I had imagined. Check it out.
Emeril's Sell Out
I was surprised that Emeril Lagasse chose to sell out many things to Martha S. but I guess that was a money thing. His Emeril Live shows brought a lot of Cajun and Creole to the world. It was always good to see him at least make a good attempt at bringing South Louisiana to the forefront. I'm good with that, and, I'm waiting for his next adventure! Article here.
Outta Site
Here are some other great websites from Louisiana. Please visit them. We're all in this together.
Justin Wilson (deceased) was an old time favorite of mine (I'm 53). He could cook and would also lend his Cajun background to his show. His daughter Sara continues to keep his history alive! Click Here...
Crawfish Galore: We're in "the heat" of the season, contact these folks to get your Cajun gold. Click here!
You ever get a guaranteed pearl in your oyster purchase? You can certainly get one here and if you just love oysters you'll have a necklace in a short time. Pearl Reef Oyster Co. right near here in New Iberia, La. Click here!
This fellow is not really from Louisiana but is a retired Chef (J.R.) who is a Cajun/Creole food enthusiast. Check his "A Touch of Cajun" site out...Click here...
SurfinSapo
There is a "should-a-been" Cajun that lives in South Texas (God bless his good soul). He's in the process of perfecting a jambalaya. Check out his video... Click here! Sapo, keep it up bro! He has some other good stuff there too! Check it all out, especially the gas grill conversion... one of my favorites. Listen to me... watch this guy... add his stuff to your favorites, and, check his movements out. He's got it together.
White Mirliton
I know that there is a White Mirliton from a gardener on the east coast. All of what we see is green, but there are white ones too. I'm working on this and will let you know. If you know where to buy these please let me know.
Pickin' Garlic
Garlic is almost ready to harvest... You planted it in August and the harvest is in May (this month). Read the Garlic Article.
This is simple and there is virtually no maintenance. I found some purple garlic which is supposed to be a better (higher potency) garlic. I'll give you the lowdown on that in the next communication.
Terminology:
C'est la vie (say la vee)
"That's life"; said when something happens that you can't do anything about and you accept it as it is.
`````````````````````````````````````````````````````````````````````````
Advertisement--------------


(Click Above)
Louisiana Cookin' magazine is available on newsstands
and by subscription.
Advertisement--------------
`````````````````````````````````````````````````````````````````````````

Cooking Louisiana wishes the best to the men and women of the military and to their families. We thank you for your service to the people of the United States.
`````````````````````````````````````````````````````````````````````````
You can contribute
If you've go a subject you'd like me to research, or, you've done a little fact finding yourself, don't hesitate to contact me... this is about us, not me! Cooking is fun, and, that's what we do here... have fun cooking!
`````````````````````````````````````````````````````````````````````````
Till next time... eat well...be well.
*~~~~~~~~~~~~~~~~~~~~~~~~~~~~~*
Be sure to visit the "What's New" page to see all of the site's new recipes and additions.
*~~~~~~~~~~~~~~~~~~~~~~~~~~~~~*

As usual your privacy remains secure and your identity will not be sold or distributed to anyone.
Please forward this newsletter to your cooking friends. I won't charge you, I promise!
Signing up for the Cooking Louisiana newsletter will keep you up to date on site changes, new recipes, and cooking info in general. Click here.
The Cooking Louisiana Newsletter is freely published every so often. When you get one, you get one!