Here is a Pork go-together, smothered cabbage. I remember not being able to stand the smell of cooking cabbage when I was a kid and now it's like perfume! Smothered cabbage is usually a side dish to pork chops or a roast and is a New Year's Day must! Smothered cabbage is really simple to prepare.
Med. head of cabbage chopped large and rinsed
1/2 med onion
1/2 cup fresh green onions
1 handful of parsley
2" x 2" piece of salt meat
1 link fresh homemade sausage or andouille
bacon grease
1 tsp creole seasoning
pinch of allspice
salt and pepper to taste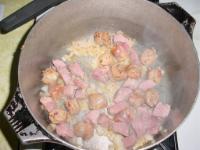 Cube the salt meat and boil for about 5 minutes. Save the liquid. Cut the homemade sausage in 3/4" slices.
In a pot with some bacon grease begin to brown the onions. When the onions have wilted throw in the salt meat and sausage.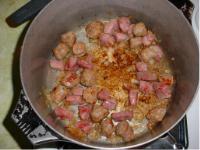 Stir occasionally until everything is partially browned.
While preparing the base chop and rinse the cabbage.
Taste the water from the salt meat. If it's not bitter pour about 1/2 a cup in the meat and deglaze the pot.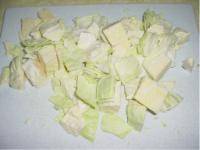 Start putting the cabbage in until the pot is about 3/4 full, stir around, lower the fire and cover. Within about 15 minutes the cabbage in the pot will be wilted enough to add more fresh cabbage. Continue to do this until it's all in the pot. Watch so the liquid doesn't cook all the way out. You need to keep at least 1/4" of liquid in it until it's almost done.
Once all the cabbage is wilted throw in the remainder of the seasonings and stir well. Here is where you make a judgment call. Do want the cabbage done "just cooked", or, do you want to smother it to smithereens?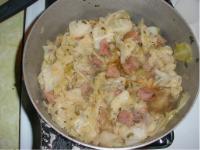 Taking your choice continue to cook it to the point you want.
I've seen people throw in a little butter after the liquid has evaporated and continue to cook it for a few minutes.
Enjoy...