Onion Mums or mini-mums. If you've ever shared an Onion Mum you know they're delicious. So why can't you prepare miniature versions of the same delicacy? You can, and, it's simple! Just think of the praises you'll get at the next meal!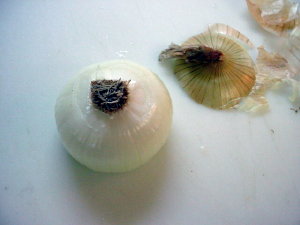 Take a small to medium onion and cut the top off (about 1/4th of the onion). Peel away the outer skin but leave the root on.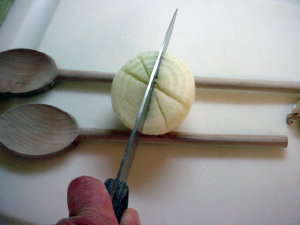 With a knife cut wedge shapes in it. But here's the trick... take two wooden cooking spoons and rest the onion between them root down. Now slice wedges into the onion as you would cut a pizza. Doing this keeps the onion together at the base therefore allowing a "Mum" result.
Gently (with a knife) separate the sections from one another.


Note
: You may use also any one of the traditional mum or bloomin' onion recipes to do this.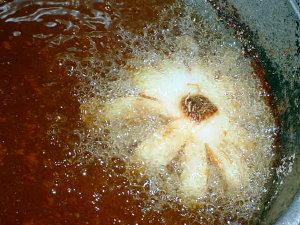 Fry each one for a minute or so (depends on the size of the onion). These small onions will open up quickly and cook quickly so please understand this takes a little practice
You can also batter them by mixing 1 cup of Bisquick and 1/2 cup of cornstarch in 2 cups of milk. Make a paste first with a little milk before adding all the milk. Soak the onions for about 30 minutes then dust them with flour and seasoning. Open the onion a little as you dust. Let the onions sit at least 5 minutes before frying.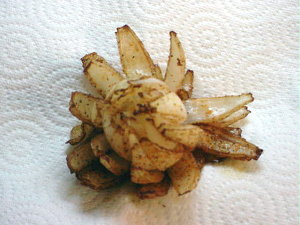 Once it "flowers" take it out of the grease and season it lightly with creole seasoning. You could also add remolade or rosette sauce on top to finish it.
This is one done with no batter.
The guests (and you) will love them.