I ran across a recipe the other day for Cajun Egg rolls and figured "what the heck!
I'll did this one with shrimp, you could use crawfish, crab, ground beef, pork or whatever.
This recipe will make 12 to 15 egg rolls depending upon how you stuff them.
1 pack 8" x 8" egg roll wrappers (called rice paper or spring pastry)
(Oriental stores have this if it's not at your grocer)
2 cups fresh shrimp chopped (about a pound)
2 strips bacon cut in small pieces
2 cups cabbage, shredded
1 lg. parboiled mirleton (you can leave this out and add one more cup of cabbage or bean sprouts)
1 cup bean sprouts
1/2 med. onion chopped
1 stick celery chopped fine
5 green onion leaves chopped
Handful or fresh chopped parsley (1 tbs. dried)
2-3 tsp. minced garlic
A few drops of liquid crab boil
Salt, pepper, creole seasoning, hot sauce and whatever else
2 tsp. soy sauce
1 egg beaten (pastry glue)
Get your rice paper ready to use.
Render the bacon on a medium fire in a large skillet. Add onion and celery and cook until wilted. Turn fire up to med-high and add shrimp and green onions and sprinkle some creole seasoning on them. Stir-fry until shrimp turn pink, remove from fire and put this in a large bowl.
In the same skillet add a tbs. of cooking oil and on a medium fire stir-fry the cabbage, mirleton and bean sprouts until the cabbage starts to wilt. Sprinkle a little creole seasoning and add parsley. Stir a time or two and add this to the shrimp mixture. Add soy sauce and mix everything up well. Let this sit for about 15 minutes stirring a few times, taste and add seasoning to your liking. Let this cool for a little while; hot mixture on rice paper is tough to deal with.
Note
: If you use meat add a half cup of diced bell pepper and leave out the crab boil.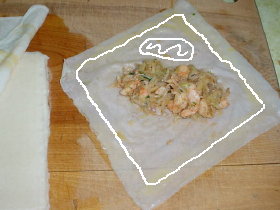 Prepare the egg rolls by placing the mixture on the wrapper as shown here.
Paint the wrapper with a little egg on the parts shown by the white lines.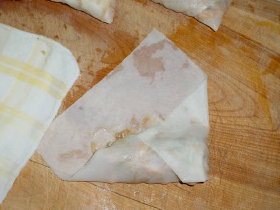 Fold the bottom edge up then gently tighten it up by sliding the top pastry flap towards you. That's why you put the egg mixture in the center, so it will slide easy. Fold the left and right corners over and roll forward.
Lightly flour the working surface before wrapping. I did this on the second batch and it worked pretty good.
Fry them in 360 degree oil until golden brown.