Purple hull peas are a big hit here in South Louisiana. Purple hull's are similar to Black Eyed Peas and but have double the flavor. Fresh purple hull peas are naturally the best and some places like Fresh Pickin's in Lafayette sell them fresh frozen. I have seen them canned and at Albertson's in Lafayette, La in the freezer section. Bush's has them in the can and can usually be found at Wal-Mart.
There is something unique about the combination of the hocks and purple hull's... it's great! If you can't get smoked hocks use salt meat or whatever you can get. You don't even need any meat really... the peas speak for themselves.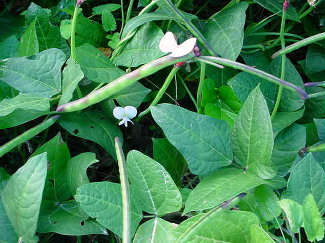 4 cups purple hull peas (3 or 4 cans)
1 - large hunk of smoked ham hocks.
1 med. onion chopped
Cooking oil or bacon grease to just cover bottom of pot.
1 - clove of fresh garlic minced.
Small handful of fresh parsley
Salt and fresh ground black or white pepper.
1/2 cup green onions.
Put oil in a pot and on a medium heat sauté the onions until a tiny bit brown. Add hocks and cover with water. Boil hocks about an hour, remove and cut meat away. Discard any fat and return meat and bone to the pot.
Add peas and enough water to cover the peas. Bring to a boil and cook about 30 minutes. Lower the fire to med-low, cover and cook until the peas are just starting to soften a little, stir occasionally. Add the green onions, parsley and garlic, stir and continue to cook covered.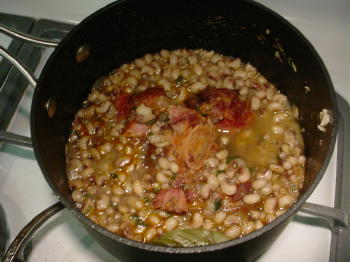 Taste and add salt as needed.
Note
: You may have to add water as the cooking progresses. When the peas are done you should have at least 3/4 the peas covered with water. You can mash some against the side of the pot to cream them up a little.
Peas are usually served as a side dish over rice with pot roast or other main meat courses.
Enjoy...