Peas and Eggs is one of my all time Cajun favorites. They just go great together and I've been eating Peas and Eggs for as long as I can remember.
2 cans (15 oz.) Petit-Pois (small young sweet peas) Le Sueur is my choice.
1/2 med. onion chopped fine
2" X 2" salt pork or 4 slices of bacon
4 raw eggs
6 green onions
pinch of black pepper and salt
Pinch of Creole seasoning
Use a 2 or 3 quart pot.
Sauté salt pork (or bacon) and onion for about 10 minutes on a med fire (brown very lightly). Add peas and remainder of seasoning (except Creole). Add water to just cover peas. Bring to a boil on high fire and lower fire to med-low.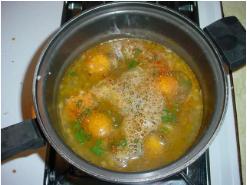 Crack raw eggs into pot evenly as shown. Sprinkle Creole seasoning on each egg lightly. Gently shake pot to settle eggs into peas. Cover and cook on low for about ten minutes or until eggs are done. You want the eggs to stay together like poached eggs.
Makes a nice Cajun side dish!