Cabbage casserole gets devoured around this house. It's an easy way to prepare the favorite "Cabbage Rolls" that are so popular in South Louisiana.
1 lg. head of cabbage
3 lbs. ground beef or chuck
1 - 15oz. can Cajun Style Stewed Tomatoes
1 - 8oz. can tomato Sauce
1 med. onion chopped
1 bell pepper chopped
3 stalks celery chopped
1/2 tsp. minced garlic
1 egg
1/2 cup rice
1 tsp sugar
1 tsp. Creole Seasoning
1 beef bullion cube dissolved in 1/2 cup of water, or 1/2 cup of beef stock
Salt and Pepper
Pull outer leaves of the cabbage leaving them whole. Rinse well. Take some of the inner parts of the cabbage and chop - about 2 cups worth.
In a large bowl put the ground beef, raw vegetables, chopped cabbage, egg, rice, 1/4 can of tomato sauce, 1/4 can stewed tomatoes and liquid (crush the tomatoes), 1/4 of the bullion liquid, creole seasoning and sprinkle salt and pepper.
Use your hands to mix this up very well.
In a bowl on the side, put the remaining tomato sauce, stewed tomatoes (crush the tomatoes a little, bullion liquid, sugar, salt and pepper. Mix well. This is the cooking liquid.
Heat the oven to 350ºF.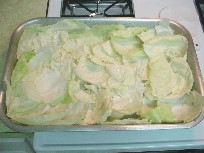 In a large pan (as shown here) layer the bottom of the pan with the large cabbage leaves.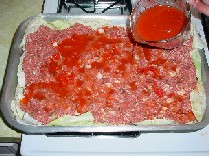 Next, layer the meat mixture to cover the cabbage leaves. Make indentions in the meat with your fingers to hold liquid (don't poke all the way through). Pour half of the cooking liquid over the meat.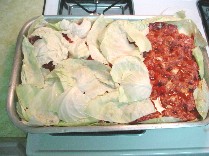 Cover the meat with another layer of large cabbage leaves (the picture shows the process in progress). Pour the remaining cooking liquid over the leaves.
Cover the pan tightly with aluminum foil and bake for about an hour and fifteen minutes.
Here is the final result.... A few pieces of cabbage were moved so you could see the meat below.
Janine Guidry - Lafayette, LA