Crawfish Pasta Recipe: Pasta dishes are light and easy to put together. They can be served as a main dish, or a side dish and are basic Cajun Cooking! I've tried several dishes using different meats. Each different dish is put together the same basic way, but, seasonings should be carefully chosen. For example I would use a different array of seasonings for shrimp pasta and steak pasta.
Here is my crawfish pasta recipe, one of my favorites!
1 lb. crawfish tails
1 slice of bacon chopped in 1/2' pieces
1" round of angel hair pasta
1 med onion - chop half of it, thinly slice the other half
8 - 10 green onions cut in 1/2" pieces
1/2 bell pepper thinly sliced
1 tbs. minced garlic
1 tsp. creole seasoning
1/2 tsp. Old Bay seasoning
1/2 stick butter
-------- Following needed to cook pasta --------
1 tsp. creole seasoning
1 tsp. garlic powder
2 - bay leaves
4-5 drops liquid crab boil
In about eight cups of water put the pasta cooking seasonings and bring to a boil. Allow to continue to boil for about 15 minutes to release seasonings. Do not add any type of oil!
While doing the above sauté bacon in large fry pan about 5 minutes (don't brown). Add chopped onions and butter, cook another 5 minutes. Add garlic and cook another 3 minutes. Add crawfish tails, stir, add remaining ingredients. Sauté on a med-low fire for about 10 minutes.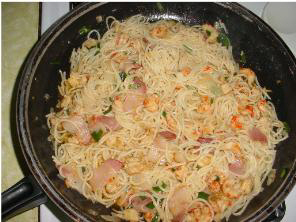 Back to the pasta..... Put pasta in the boiling seasoned water and cook for the recommended time. Drain (do not rinse) and add pasta to crawfish. Stir well, reduce fire to low and cover. Stir every few minutes and cook for about 10 minutes. Taste and add seasonings if needed.
Why did I season the pasta water? Because as soon as the pasta gets coated with oil it absorbs very little (if any) seasonings.
Garlic bread goes well with this dish.
Enjoy