Jack's Crab Stew Recipe:
Crab Stew is one awesome plate of food and one of my favorites.
This Crab Stew recipe will feed about 6 people.
6 Whole fresh crabs
1 1/2 cups chopped onion
1 cup chopped bell pepper
1 cup chopped celery
3/4 cup chopped green onions
1/3 cup chopped parsley
1/2 tsp cayenne pepper
1 tsp chopped garlic
1/2 tsp creole seasoning
5 drops liquid crab boil
2 bay leaves
2 slices of lemon
1/4 cup all purpose flour (for Roux)
salt and pepper
Add shrimp if you like.
Cooked rice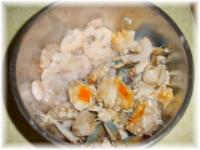 Clean the crabs using a small brush to remove any loose dirt. Clip the legs using a fish skinner.
Remove lungs and intestines and retain fat and eggs if you wish. Break the crabs in half. (see
How to clean fresh crabs
)
Make a roux using about 1/4 cup of flour. Add onions and sauté for about 10 minutes. Add celery, garlic and bell pepper and sauté another 15 minutes. Increase the fire and slowly add water a little at a time allowing the stew to come to a boil before adding more. You can also use shrimp stock if you have it.
Continue to add water until a stew-like consistency is obtained (not too thin). Add cayenne, salt, pepper, creole seasoning, lemon, liquid crab boil and bay leaves.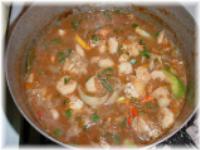 Add the crabs first and stir them into the stew. Cook them for 15 minutes on a medium fire stirring occasionally. Add shrimp and cook for an additional 10 minutes. Lower the fire very low, add green onions and parsley, cover and simmer for 10 minutes stirring occasionally. Taste the stew and add salt and pepper to your liking. The longer you let it sit the more liquid and flavor the crabs will absorb.
Serve over cooked rice....