Seafood-ka-bobs are a Cajun treat you're sure to enjoy!
2 lbs. large shrimp peeled
2 lbs. redfish cut in 1" thick pieces
3 lbs. bacon cut in half
3 med. onions cut large
3 bell peppers cut large
Other peppers as you like
1 pkg. button mushrooms left whole
3 links smoked sausage (your choice) cut in 3/4" pieces
1 pkg. cherry tomatoes
Sprinkle salt and pepper
---- prepare the above ----
Marinade..........
4 Tbs. Creole seasoning (your choice)
24 oz. Italian Dressing
1 Tbs. garlic juice
1 Tbs. Lemon/pepper
2 Tbs. Tiger Sauce
Other seasonings as you like
Skewers.......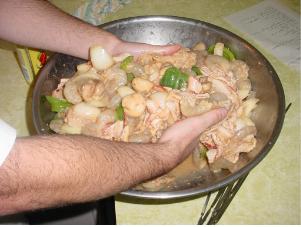 Mix marinade and combine with seafood, bacon and vegetables and mix well in large bowl.
Marinade for 24 to 48 hours.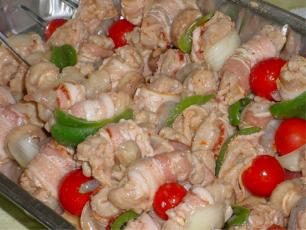 Wrap shrimp and fish with bacon, and, load skewers....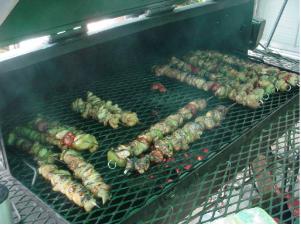 Barbecue or grill until done.