Oyster Soup is one of those heart warming sides that's just so good (if you like oysters). I decided to try to cheat on the original recipe to make a small quick soup with a pint of oysters. Sometimes you just don't want to make a big batch mostly because you can't freeze it (at least I've never tried to).
Try this and see if it works for you.
To the store
:
1 pint oysters
One stick real butter
1 can of Cream of Mushroom Soup
1/2 pint whipping cream
--- You should have the rest ---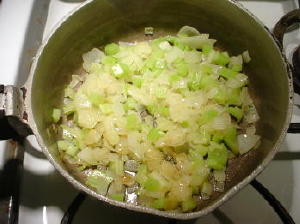 1 small onion chopped
1 stalk of celery chopped
2 tbs. real butter
Sauté' onions and celery in the butter until well wilted.
1/2 tsp. garlic powder
1 bay leaf
Add above and sauté' for a minute or so stirring.
Big handful of green onions chopped
1 tbs. parsley flakes
Canned soup
Whipping cream
1 cup water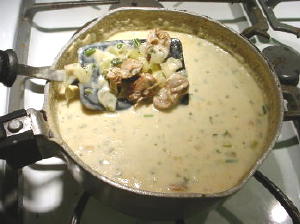 Add above and raise the fire just a little... stir frequently. Bring to a light boil.
Add oysters with liquid
1/4 tsp. fresh black pepper
1/8 tsp. Tony's
6 jerks of hot sauce
Once again, bring to a slight boil... watch close... in a small pot, it will boil over. Boil for a few minutes. Turn the fire off and let sit for a few minutes... taste and add seasoning as you like.
Enjoy...