Oyster Soup is a favorite of mine. This oyster soup recipe is a milk type and was derived from another famous recipe. Get your taste buds ready all you oyster soup lovers... here it is!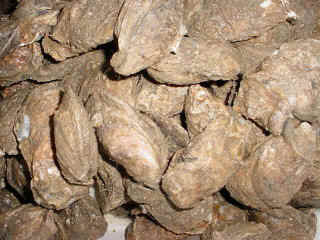 1 Cup (2 sticks) melted butter
1 cup chopped onions
1 cup chopped celery
1/2 cup chopped bell pepper
1/4 cup (2 tablespoons) diced garlic
1/2 cup finely diced pork Tasso
1 cup all purpose flour
6 cups chicken stock (if using bullion add a few more cubes)
4 cups oyster liquor
1 pint heavy whipping cream (has a richer flavor than milk)
4 - 6 dozen medium to small oysters
1/2 cup sliced fresh green onions (about 3/4" long)
1/2 cup chopped fresh parsley
Salt, white and black pepper to taste
Few dashes of Louisiana Hot Sauce
In a 2-Gallon soup pot, on a medium fire, melt butter and add onions, celery, bell pepper and garlic. Sauté for about 10 minutes (don't brown them).
Add tasso and stir in.
Sprinkle flour stirring constantly until well blended (don't scorch it)
Add chicken stock a cup at a time stirring constantly keeping the mixture hot (you don't want everything to cool down too much). Do the same with the oyster liquor.
Bring to a boil for a few minutes (makes the flour thicken) then reduce heat to a simmer (no more hard boiling) and cook for 30 minutes. Add heavy whipping cream, oysters, green onions parsley and pepper. (don't add salt yet) Cook (very slow bubble) for another 20 minutes stirring occasionally, remove a little to cool and taste. Add salt accordingly. (the oysters and liquor may be salty enough not to have to add salt)
Jack Guidry - Lafayette, LA