Fried Crab fingers are a great appetizer, and can be served as a complement to other seafood dishes such as fried fish and stuffed flounder. The tough part about Fried Crab Fingers is finding the fingers.
Prepare the claws by peeling away the shell. You'll only be using the pincer end of the claw. You can also purchase these already prepared to fry at some seafood markets. To see how to prepare them yourself from boiled crabs
click here
. The claw preparation section is at the bottom of the page you just opened.
Wet mix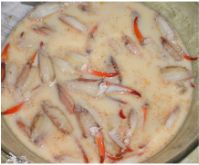 1 egg
2/3 cup of milk
1 tsp. Creole Seasoning (your choice)
1/2 tsp. garlic powder
1/2 tsp onion powder
1/2 tsp. hot sauce
1/2 tsp. cayenne pepper
1 tbs. corn flour or fish fry
1 tbs. corn starch
Salt and fresh ground black or white pepper.
Put claws in liquid mix. Mix it all up and marinade it for 30 or more minutes in the ice box.
Dry Mix
1 cups corn flour (see note 1) or fish fry.
1/2 cup cornstarch (makes it stick better)
2 Tbs. Creole Seasoning
1/2 tsp Salt
1/2 tsp. Black Pepper
1/2 tsp. Cayenne
1 tsp lemon and pepper seasoning
Don't hesitate to adjust any of this to your liking...
Cooking:
Put the claws in the dry mix and let sit a minute or so moving it around just a little.
Use peanut oil, about 1" in a pan depending upon the pan depth. Heat to 350ºF (hot oil will burn you badly, be careful).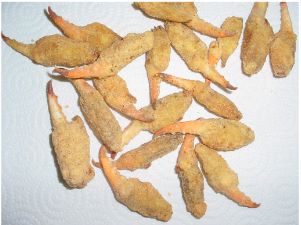 Fry them until golden brown. Claws cook quick. If you use claws from a crab boil they will not bubble as much as fresh. You still want to get them a little brown.
Have a little tartar and/or rémoulade sauce and lemon handy for extra flavors.
There's a place out of Natchitoches that you can order crab claws ready to fry (unbattered).
Louisiana Crawfish Website
.
Enjoy.....
Jack