Crawfish Etouffee - Creole Style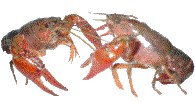 1½ to 2 lbs crawfish tails with fat
(From a crawfish boil)
2 Tbs. bacon grease
2 Tbs. flour
2 Sticks Butter or Margarine
2 Large onions chopped
3 Stalks celery chopped
1/2 Bell pepper chopped
2 Tbs. minced garlic
3 bay leaves
3/4 cup green onions chopped
1/2 cup fresh parsley chopped
1 small (8 oz.) can tomato sauce
1 tsp. Creole seasoning
1 tsp sugar
Salt and Pepper to taste
Cooked rice
I noted that the crawfish tails were from a crawfish boil because they will already have seasoning in them, so be careful with what you add.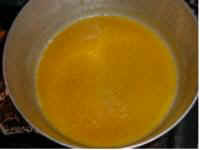 Make a blond roux using the bacon grease and flour. Add the butter, let it melt then add the onions, bell pepper and celery. Cook on medium heat for about 30 minutes stirring every few minutes (don't let it burn).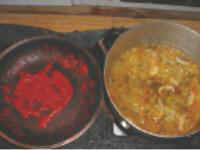 On the side in a non-stick pan scorch the tomato sauce.
Add garlic and bay leaves. Continue to cook another ten minutes or so. Add crawfish and scorched tomato sauce. Let it come back up to heat. Add green onions, parsley, Creole seasoning and sugar. Cook another ten minutes and taste to see what seasoning you need to add. Add water to desired thickness.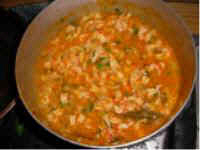 Serve over cooked rice.
A little French bread on the side won't hurt either.
Feeds about eight people.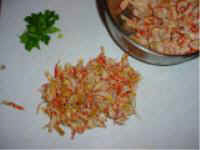 About the crawfish, when I peel the crawfish I save the small strips of meat that you pull off to de-vein them. The fat is usually stuck to it. You can throw them in the pot just like that, but, if you chop them up fine, nobody (the "oh gross" people) will see them. You may not think it's much meat but out of 2 lbs. of crawfish you'll get a cup of meat in strips alone.
The picture shows the bowl of tails and the meat on the board are the strips taken from those tails.
Leave the tomato sauce out to make it a "Cajun" style.
Enjoy...