Corn and Crawfish make a nice combination and this creamy soup brings them together very well. This recipe is a "next-day" dish after a big crawfish boil and is really very easy to put together.
Besides the crawfish, I boiled corn, onions and garlic... most of the ingredients I needed. Using these and a few others here's how it's done.
1 can Cream of Mushroom Soup
1 can Cream of Celery Soup - or 1/2 pint of heavy whipping cream
2 cups peeled crawfish
1/2 lg. onion chopped
1 stick celery chopped
2 cloves garlic chopped
Handful of fresh parsley
1 or 2 ears of corn (shave the corn off of the cob) or 1 regular can
1/3 Stick real butter
Handful of green onions chopped long
Fresh Ground Black Pepper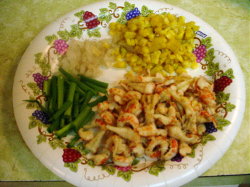 You probably noticed that I didn't use any seasoning except black pepper. That's because all of the stuff from the crawfish boil is seasoned already. If you don't use the crawfish boil ingredients you'll have to season the soup yourself.
Here's a suggestion for unseasoned ingredients
.
1 tsp. Old Bay or Tony's
2 - 4 drops of liquid crab boil
Salt to taste
Putting it together: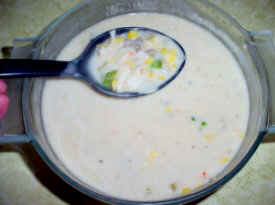 Sauté the onions and celery in butter until wilted. Add corn and simmer a few minutes. Add crawfish and simmer until warm. Add both soups and 1 cup of water. Bring up to heat stirring. Add remaining ingredients and bring up to a slow boil then reduce the heat to a simmer.