This brown sauce goes well on steaks. It's simple to make and uses
More Than Gourmet Demi-Glace Gold
as the base. This will be enough sauce for 4 steaks.
The recipe is easily doubled.
1 sm. Pablano pepper
1 pkg. portabella mushrooms
1 head garlic
1 tbs. olive oil
1 tbs. Demi-Glace Gold
water
Salt and Fresh Ground Black Pepper to taste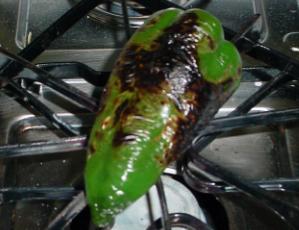 Roast the Pablano pepper over an open (low) flame. What I've done here is placed one of the other stove grates over another to move the pepper a little farther from the flame. Be careful doing this, the top grate can slide off and burn you!
Roast the garlic in a pan with olive oil. Here I've used one of those new fangled pancake cooking pans so I can close it and retain heat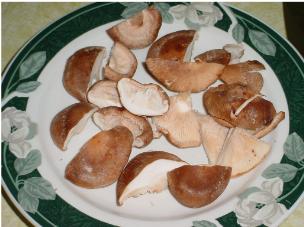 Wash the mushrooms and cut the stems off.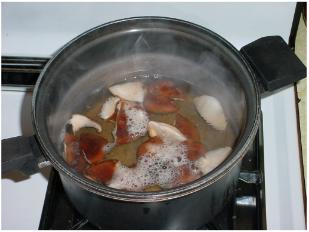 Boil them in enough water to cover them for 2 minutes and lower to a simmer. Continue to simmer for 10 minutes.
Drain and save the water, reduce on low fire to about 2/3 of a cup.
Add the Demi-Glace to the mushroom liquid; stir to dissolve completely (this will take a minute or two). Turn the fire to medium and bring to a boil stirring constantly. Boil for 15 seconds. Lower the fire to a simmer.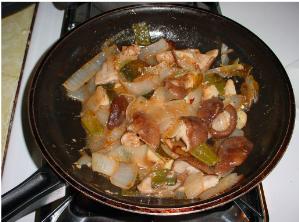 Peel the Pablano pepper and chop it up. Squeeze out garlic and chop coarsely. Add both to sauce pan. Add fresh ground black pepper and a pinch of salt. Simmer stirring often for about 20 minutes. Evaporation of the water should bring it to about ½ cup of sauce.
Strain sauce or serve as is over steaks.
You can add the mushrooms, garlic and pepper to onions and serve as side vegetables.
To keep the sauce warm (for use on steaks) pour the sauce into a Pyrex measuring cup and place cup in a little hot water in a pan on the stove. Don't cook it any more.
Enjoy