If you don't know what Pastalaya is, it's a jambalaya made with pasta instead of rice. I can't tell you who thought of Pastalaya but I do know it's awful good. A co-worker told me about it and I did find out a few restaurants around here serve Pastalaya.
This is a pork and sausage Pastalaya. I'm sure you could substitute with chicken or shrimp.
2 lbs. pork (I used country ribs) chopped in bite sized pieces.
1 lb. smoked sausage chopped in bite sized pieces.
4 lg. onions chopped
5 stalks celery chopped.
1 bell pepper chopped
4 cloves diced garlic
1 cup green onions
1/4 cup chopped parsley
6 baby Portabella mushrooms cut in 4
2 bay leaves
Black & cayenne pepper
Louisiana hot sauce
Salt
1 16 oz. pkg. fettuccini noodles broken in 4.
Sear pork and sausage in a little oil well on all sides and remove from pot. Deglaze pot, add onions and cook until golden brown.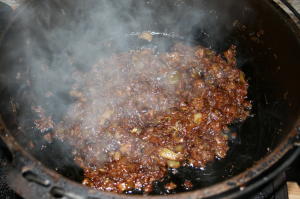 Add celery, garlic and bell peppers and continue to cook on med-low fire until reduced by 1/3 (cook them down good). Add a little water every so often so they don't stick or burn if needed. Add garlic and cook a few minutes stirring frequently to slightly roast the garlic.
Add the meat back into the pot and cover with water. Add remaining ingredients. Bring to a slow boil for about 30 minutes stirring occasionally.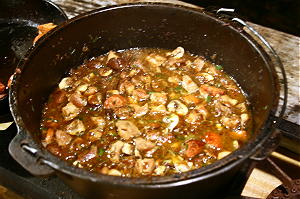 Taste and add seasoning as needed. You want it a little salty which will be absorbed by the pasta.
Break the fettuccini noodles in four and add to the pot. Cover with water by a quarter inch. Bring back to a slow boil and stir frequently. Leave the cover off the pot.
As it cooks the water will be absorbed by the pasta and some will steam off.
Continue to cook until a little water is left at the bottom of the pot. Turn off the fire, stir and cover. Let set for 15 minutes before serving.