Stuffed round steak or Round Steak Roll is a new twist on this normally tough meat. This isn't hard to do it just takes a lot of cooking time.
1 - Round Steak
1 - Jar Roasted Bell Peppers
1/2 onion sliced thinly
Bacon
Garlic
Olive Oil
Jalapenos
Seasonings
Butchers String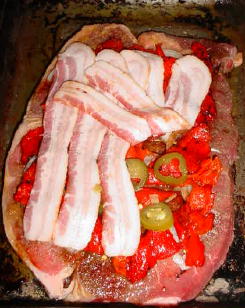 Rinse Round steak, pat dry, coat with olive oil and sprinkle granulated garlic on both sides. Marinade a few hours in the fridge if you have time.
You'll notice that a round steak sometimes comes in what looks like two pieces of meat separated by a membrane. Take a piece of butchers string and tie the two steak halves together so they don't separate when you roll it. I didn't take a shot specifically of that, but, if you look at the picture to the right you'll see the string on each side of the steak under the stuffing.
Lay the steak in a pan, season then layer all the ingredients on it.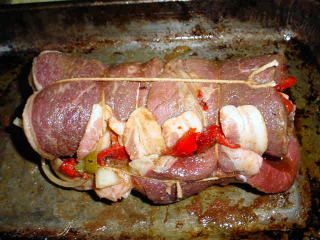 Roll the steak and tie it with butcher sting to secure. Set in a pan with HD Aluminum foil.
Bake uncovered at 325ºF for about 2 hours turning once. Add a little water to the pan every so often and baste the roll. After two hours add a little more water and gently wrap the foil around it to seal it. Continue to bake another hour.
Take it out the oven and let it sit wrapped about 15 minutes before slicing.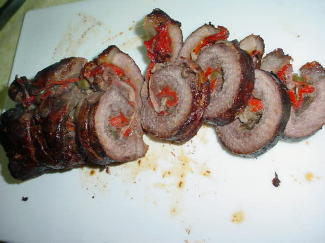 I wound up with gravy in the pan and just poured that over the sliced steak. You could also make a small gravy on the side and use that.
I've also done this before using fresh sausage instead of bacon on the inside, and, wrapped the outside with bacon.
Be creative with this dish...!
Enjoy.