Stuffed Pork Chops

This one is a big hit, and I'll show you how to stuff pork chops like you probably haven't seen yet. This Cajun Stuffed Pork Chop Recipe is down to heart Louisiana Cooking and if it's not, I'll refund your free admission to this site!!! Is that a guarantee or what!
Traditionally Stuffed Pork Chops are 1" to 1 1/4" pork chops with a pocket slit in them, then a stuffing is inserted. Pretty simple. Can you find these at your local grocery? Maybe in some places but not all. Do you have time or will you take the trouble to call your local butcher and have him cut special chops just for you (at a high(er) price)? Maybe, but, probably not...right?
Well... your local grocer sells pork chops...regular old pork chops. That's all you need with this. Surprised?... Let's get to it...
The stuffing will be crawfish based... you could use other things I guess, but I haven't tested those yet... be daring if you wish!
This recipe will take care of 12 to 14 chops... don't worry you can freeze the ones you prepare and don't cook now.
Step 1:
Pork Chops
Honey
Creole Seasoning
Garlic Powder
Black Pepper
Rinse and pat dry the pork chops, rub with a little honey and season with the above ingredients. Set in the fridge while you fix the stuffing.
Step 2: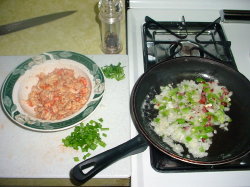 1 onion diced
1/2 bell pepper diced
1 stalk celery diced
2 cloves garlic diced
1/2 cup green onions diced
Handful of fresh parsley chopped
1 lb. Louisiana crawfish rough chopped (see note 1 below)
1/2 stick butter or margarine
Salt Pepper and Creole seasoning to taste
Cooking twine
3 slices of bread (crust removed and broken into pieces) soaked in 1 small can of evaporated milk mixed with 1 egg.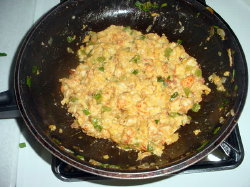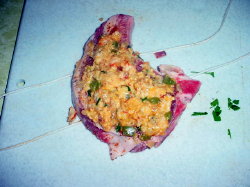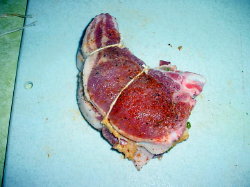 Sauté the first three ingredients in the butter until soft, add green onions, parsley and crawfish.
Sauté this for a few minutes then drain and add bread. Mix well and add seasoning until it tastes like you like. Turn off the fire and light the oven to 350ºF.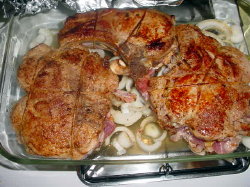 Take the chops out of the fridge and pair up two chops of similar sizes. Cut two or three pieces of cooking twine (you make a judgment call here) and lay them out. Put one chop down, fill with 1/2" of stuffing and lay the other (sister) chop on top. Tie them together as best you can.
In a little butter on a medium fire lightly brown the pork chops. Leave this pan on the stove and don't touch it (you'll see why in a moment).
In the pan you're going to bake them in, layer the bottom with a few sliced onions and sprinkle some seasoning on them. Add about 2 tbs. of water per chop to the pan. Bake for 45 minutes covered.
While all this is happening add a little water to the pan you fried the chops in and sprinkle a little Creole seasoning in it. Put a low fire under it. This will make a small amount to gravy to pour on the chops before you serve them.
Note 1
: If you don't use crawfish from your own crawfish boil they are not seasoned. You can season them with 6 - 8 drops of liquid crab boil and a little sprinkle of Creole seasoning.