Todd's Smothered Rabbit
Ingredients
2 Medium Sized Rabbits (approx 1-1/2 lbs each)
3/4 lb chuck roast
¼ cup Canola Oil
1 lb onions
½ cup dry parsley flakes
1 lb bell peppers
½ lb celery
1 can mushroom pieces
1-1/2 qts. 2% milk
¼ cup of table salt
1/8 cup ground black pepper
6 tbsp Louisiana Hot Sauce (Cajun Chef)
3 tbsp Grill Mates Montreal Steak Seasoning
3 tbsp garlic powder
2-3 cups of water
Marinade Preparation
Clean the rabbits extremely well by removing as much of the muscle skin as possible (The thin transparent skin). Cut the front and hind legs off and slice the main torso into two or three pieces. Place in a large aluminum (disposable) roasting pan. Sprinkle all of the dry seasonings onto the rabbits. Then coat the rabbits with the hot sauce. Pour in milk around the inside edges of the pan so as not to disturb the seasonings on the rabbits. Pour in enough milk to just barely cover the rabbits. Cover with aluminum foil and place in refrigerator for a minimum of 10-12 hours.
Cooking Day Preparation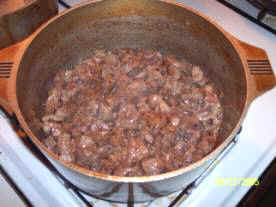 Chop and dice the onions, celery and bell peppers. Begin by browning the onions in the Canola Oil until they are golden brown. Dice the chuck steak into small cubes and add to the pot of onions, and fry on a high fire until golden brown. You may want to add a little salt and pepper to the chuck steak if you desire. Don't be tempted to add too much water. Add just enough to keep it from burning. You want it to stick to the bottom because that's where the good stuff for the gravy will come from!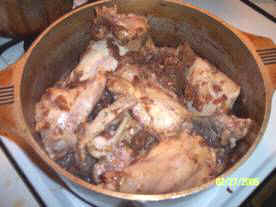 Remove the rabbits from the refrigerator. After the chuck roast is browned thoroughly, add the rabbits. Continue to cook on a high fire stirring occasionally to keep from burning. Brown the rabbits until each piece is brown and add the celery and bell pepper. You can use some of the marinate solution for the added flavor if you want. (Add about 7 cooking spoonfuls). Add 1 cup of water to this mixture. Use 2 cups of water if you don't use the marinate solution. Lower the fire to a simmering temperature and cover. Only open the cover to stir the pot. Don't be too curious to see when it's going to be done! It will take approximately 4-6 hours to get the rabbits cooked down to the desired consistency and flavor.
Cook your favorite brown or white rice (approximately 2-3 cups) and top with a little sprinkle of parsley flakes or ground parmesan cheese (dry) if you like. Not really necessary because the rabbit flavor will carry your taste buds away anyway!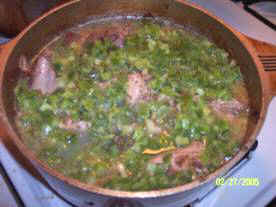 After 4-6 hours of cooking, remove the cover from the pot. Add a little water if necessary. Stir and let sit approximately 30 minutes or until you just can't stand to wait any longer. Spoon out a piece or two of rabbit onto a plate, and spoon some gravy onto the rice. Prepare for a splendid taste sensation unlike any other you have ever had.