Man, this one will warm the heart (and fill the need). I can't go too long without it either! This is also called Grillades (gree-YHADS) [French for Grilled or Braised Food] in South Louisiana. Grillades recipes are difficult to find on the internet because of the spelling. You would think it was spelled Griads, Greahds or something like that. This recipe is traditionally made with cheap cuts of meat that have been pounded or tenderized with a meat mallet. Grits and Grillades is the traditional dish.
1-Round Steak, chuck steaks etc.
Flour to dust steaks
1/2 Tsp. Garlic Powder
1- Large or 2 - Med. onions chopped
¼ cup celery chopped
1-bell pepper chopped
1/2 cup onion tops chopped
1/4 cup parsley chopped
2 cans of stewed tomatoes or1 can of stewed tomatoes and 1 can of Ro-Tel™ Original" tomatoes.
Pinch of sugar
Cooking oil to cover bottom of pan
2 beef bouillon cubes dissolved
Salt & Pepper
Cut steaks into 4" squares or 1" strips
Season meat with salt, pepper and garlic powder
Flour each piece on both sides
Fry meat in oil until browned on each side
Take meat out - set aside
Put stewed tomatoes in pan
Cook until liquid has cooked out, add sugar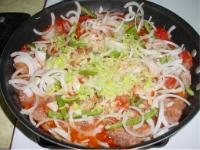 Put steak and remaining ingredients in with cooked tomatoes
Add salt, pepper, garlic, parsley, onion tops, beef bouillon cubes and water it's in.
Cover and cook an hour or more until meat is tender (depends on cut of meat).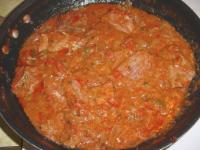 Serve over cooked rice or hot grits.
This is my wife's recipe (thanks baby)... oh boy!... one of my top five favorites ( I can't remember what my other four were!). Serve this with a little succotash on the side.... aaaaaay-eeeeeee!
J. J. Guidry (Jack's wonderful wife)