Rotisserie Chicken is one of my favorite methods of cooking our feathery friend. With today's gas grills it's easy to get the chicken cooked to perfection. What you see here is nothing fancy as far as seasonings since experimentation is the key to the taste you're looking for.
I like to use a chicken just under 4 pounds.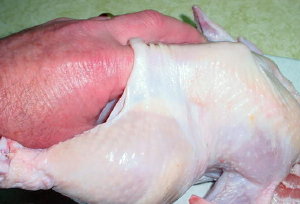 Wash the chicken as you normally would removing the giblets. Using your index finger gently begin separating the skin from the meat starting at the tip of the breast near the legs. Work you way up towards the front of the chicken until you hit the breast skin membrane, don't break that membrane. Now work down and towards the thigh. You should wind up with a nice pocket that allows access to the breast meat and thigh meat..
Stand the chicken (legs up) and move the skin away from the meat. Sprinkle whatever seasoning you want into each pocket.
I have a mixture of chicken rub, garlic powder, lemon and pepper and dried parsley flakes.
Take a few slices of bacon and season them up. Fold a small portion of the bacon over your index finger and push the bacon into the pocket. arrange the bacon so one end is up into the breast section and the other end is tucked into the body/thigh joint area.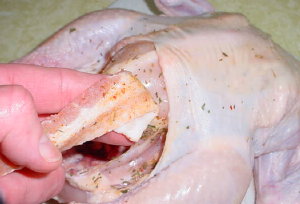 Season the outside and cavity of the chicken and throw a couple of pieces of bacon in the cavity.
Don't be afraid to add onions and other veggies and you can substitute fresh sausage for the bacon. You can also chop some taso or andouille up fine and stuff the skin with that.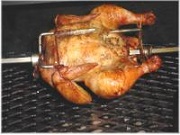 Tie the chicken and let er' go on the rotisserie until it's nice and brown. Check the doneness with a meat thermometer; it's done when the internal thigh temperature reaches 160 to 170ºF.