This is a breakfast dish to do for a small crowd with biscuits on the side. The Breakfast Casserole has everything in it and you can add your own twist if you wish.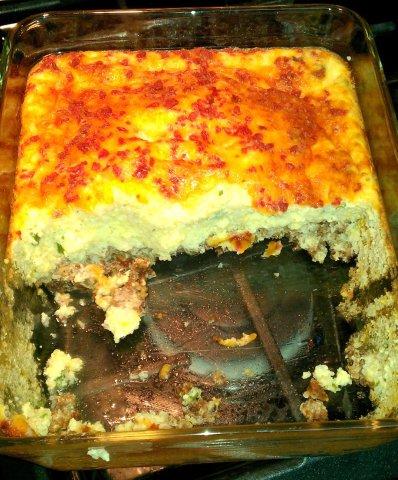 1 lb. raw breakfast sausage
1/4 cup fresh chopped white onion
1/2 cup fresh chopped green onion
6-7 beaten eggs
3 cups cooked grits (not instant if possible but you can)
1/4 tbs. real butter
3 cups shredded cheese of your choice
Seasoning of your choice
9 X 11 Casserole dish
Brown and drain the breakfast sausage and white onion until wilted (save the drippings). While doing the above in a separate pot cook the grits a little dry, then, add butter and seasoning when done. Beat the raw eggs and mix well with the cooked grits and green onions. Add 2 cups of cheese and blend (you can reduce the amount of cheese).
To prepare the casserole set oven to 365ºF. Line the bottom of the dish with the meat/onion combo. Add a little drippings Pour the grits/egg/green onion/cheese mix over the sausage. Sprinkle the remaining cup of cheese over the entire dish.
Bake for 40 minutes at 365ºF or until the eggs are done and grits are stiff (not watery).
Instead of or in addition to the sausage you can use crawfish/shrimp/crab as a twist.
Serve with love