Hamburger Steak: Hamburger steak is a great method of enjoying hamburger without the bread. This Hamburger Steak recipe has a little twist in that not only hamburger meat is used.
3 lbs. fresh ground beef
1 lb. fresh Cajun (or your choice) of sausage (not smoked sausage)
4 - 6 slices bacon chopped
2 lightly beaten eggs
1 med. onion minced
1/2 bell pepper minced
1/2 cup minced green onions
1 tbs. minced garlic (2 cloves)
1 tsp. creole seasoning
1 tsp. black pepper
1/2 tsp salt
Cayenne if you want to spice it up
1 tsp. your favorite steak rub
5 jigs of Worcestershire
5 jigs of liquid smoke
5 jigs of soy sauce
1/4 cup water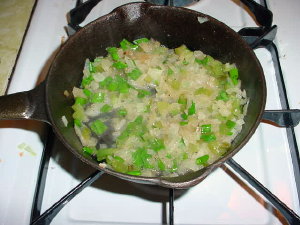 Sauté onions and bell pepper until wilted. Add green onions and sauté a few more minutes.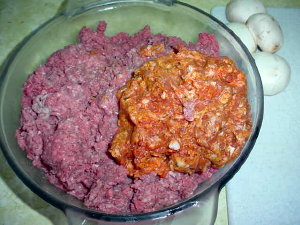 Add this to the meat mixture along with other seasonings and mix well. To the left is the ground beef and fresh sausage unmixed.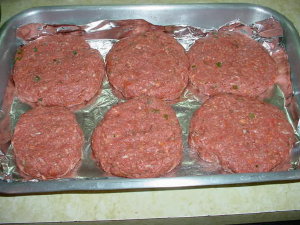 Form the steaks as shown and broil on each side until brown.
Move the pan to the oven and add about 1/2 cup of water to the pan and cover with foil. Continue to cook at 350ºF for about 15 minutes then use a meat thermometer to check internal temperature; it should be: no less than 160°F (medium) and 170°F (well done).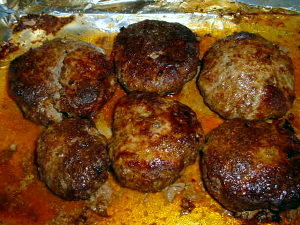 Add more water if needed and brush a little water over the steaks. Continue to cook until desired temperature is achieved. Lower fire to 250ºF, check and add water if needed and cook for another 5 minutes. Remove from oven, brush with water, and/or sauce and and leave covered for about 10 minutes. The meat will absorb some of the moisture it lost during the cooking process.
On the side sauté some onions, bell pepper and mushrooms. Add seasoning and a little instant roux to make a sauce. You can also make a roasted pepper sauce. Pour sauce and some veggies on top of the steak, or just put them on the side.