Boudin is a staple here in South Louisiana and usually compliments cracklins for breakfast. I've come up with what I consider a pretty good boudin recipe, but, I can get better right up the road. I couldn't get a "secret" recipe for this because anybody around here who makes great boudin is very tight lipped about the ingredients.
So here we go, this will make 1 long link. If you're going to increase the amount be careful with the seasonings.
Pork Preparation
1 pound Boston butt pork roast, cut in about 1 ½" X 1 ½" chunks
1 sm. onion, cut into 4
1 rib celery, chopped
1 carrot, cut in 1" pieces
1/2 bell pepper cut in 4
3 cloves garlic cut in half
1 bay leaf
1 tsp. cracked black peppercorns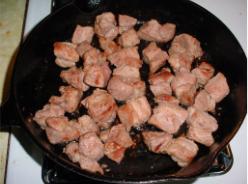 Lightly brown pork in a skillet. Remove and put in stock pot with the remainder of the above ingredients. Cover with 2-3 inches of water, bring to a boil then lower to a simmer. Cook until it just starts to fall apart. Skim the grease (pork fat) and reserve.



Prepare the following:
1 med. onion, chopped
1/2 bunch green onions, chopped (keep white parts and green parts separate)
1 tsp, garlic, minced
1/2 handful parsley, finely chopped
2 tsp. salt
1 tsp. cayenne pepper
1/2 tsp. Old Bay Seasoning
1/2 Tsp. creole seasoning
1/4 tsp. thyme
1 tsp. fresh ground black pepper
1 1/2 cups cooked rice
3/4 cup stock
Remove the meat, discard the vegetables and strain the stock. Continue to boil the stock until it's reduced by about half. Let cool. Remove one cup of stock and set aside. Cook the rice using the pork stock (add water if needed to obtain the proper quantity).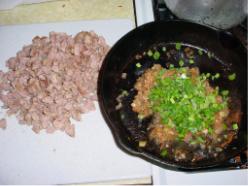 Using the skimmed pork fat or some bacon fat, plus a pat of butter, sauté the onions, green onion bottoms and garlic until onions are clear. Remove from fire.
Put the pork and vegetable mixture through a meat grinder using a coarse disc, or grind it coarse in a food processor. No more grinding after this.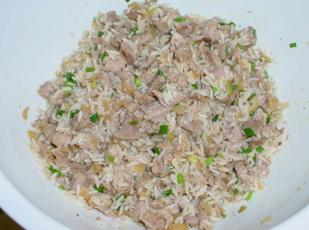 Transfer the mixture to a large bowl and mix in the green onion tops, parsley, seasonings and cooked rice. Adjust seasonings. If it seems too dry, add a little bit more pork stock. It should be moist enough to sort of stick together when a ball is formed but not mushy.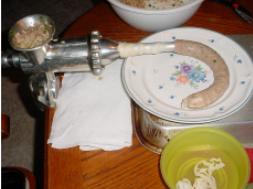 Feed the mixture through the sausage machine (meat grinder). A sausage stuffer works a whole lot better but I don't have one...yet. I mentioned a "rough grind" earlier. The reason was, I'm passing it through the grinder again here to stuff the casings which chops it even more. If you do use a stuffer you can make the first grind a little smaller.
To cook: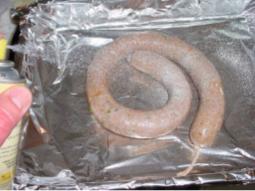 Preheat oven to 300ºF. Line a pan with aluminum foil and spray some cooking spray on the foil. Spray one side of the boudin, then the other side and set in pan. Cook for 30 minutes on one side, flip over and cook another 20 minutes. To the right is uncooked boudin.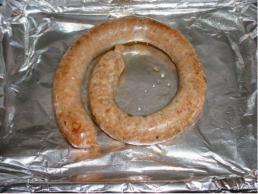 This method makes the skin crispy so you can eat the entire thing. Notice the difference in color of the previous "uncooked" boudin and the finished product. If you cook boudin on too high a heat ,or too long, it will burst.
Boudin goes well with white beans instead of plain rice with a little mustard greens on the side.
You can also make a great omelet with it.
Enjoy