Cajun pizza is a great way to keep your meal cost down and get a pizza (a Cajun Pizza) you really like. Since you'll use the ingredients you like most this Cajun Pizza is sure to be good.
Before we get to the creative part you'll first want to purchase the brand of frozen pizza whose crust and basic sauce you like the most. I'm sure you've already figured out which one that is going to be. Purchase the brand with the least amount of toppings such as a Pepperoni pizza. I'm doing this because making a pizza from scratch is time consuming. When you don't have the luxury of that spare time this is the route to go.
Now for the "Cajun Pizza" creative part!
You already have the crust and basic sauce done for you, so, choose your own toppings.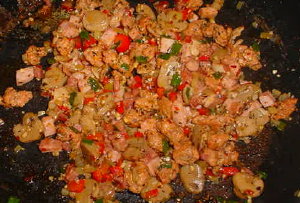 Here's a few to consider...
Diced bacon
Smoked sausage
Homemade sausage
Andouille
Diced ham
Salad shrimp
Diced crawfish
Crab meat
Mushrooms
Green Onions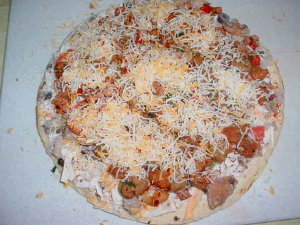 Onions
Bell Pepper
Hot Pepper of your choice
Creole Seasoning
Fresh ground black pepper
Italian Seasoning
Olive Oil
Cheeses of your choice
Parmesan Cheese
And you could go on forever! What's nice about this method is that you can make a half shrimp / half crab pizza or maybe a half ham / half sausage pizza so everyone gets what they like best.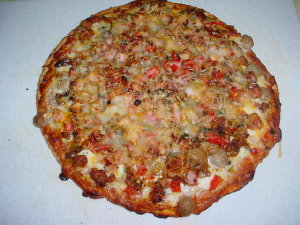 The pizza shown here was a cheap deluxe pizza (just happened to have that in the freezer) and was topped with the ingredients in the pan. Those ingredients were; diced ham, Cajun sausage, onions, red bell pepper, mushrooms, green onions garlic, Dry Italian seasoning and shredded Mexican cheese. I did two like this and they went so fast the dog didn't even get a taste...poor baby!
Sauté your veggies and meats a little then season them. Sprinkle the mix on the pizza then add cheeses of your choice...! Go ahead, "hurt yourself cher'!"
As you can imagine, your "blah-blah" frozen pizza is now transformed to a Cajunized Frozen Pizza.
I also did a few using canned pizza dough to see how much more work it was to create. I'll tell you this, I'm sticking with the frozen pizza as a starter.
Be creative and enjoy!
Jack