Crawfish Dip - Served warm as a spoon-on snack with chips or crackers.
Crawfish Dip or Seafood Dip is easy to make, it just takes a little time. This Crawfish Dip can be used with shrimp and crab also. Double recipe if you wish. This dip is best made with leftover crawfish from a boil.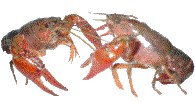 1 - stick real butter
1 - lg. onion chopped
1 - bell pepper chopped
Handful of chopped green onions
1/4 tsp. garlic powder or 2 cloves minced
Handful of chopped parsley
Fresh ground black pepper
6 - 8 drops hot sauce
Cajun seasoning of your choice
1 - lb. crawfish rough chopped
8 oz. Philadelphia cream cheese
In a large saucepan melt butter then add onion and pepper. Sauté' on a med-low fire until soft. Add everything else except cream cheese and cook stirring frequently for about 10 minutes. Cut cheese in about 8 chunks and add. Fold mixture to allow cheese to blend in well. Taste and add seasoning as needed.
Makes about 3 cups.
Note
: If using crawfish from the store add about a 1/8 tsp. crab boil.
Serve with your favorite dip crackers.