The cookbook, Bayou Lafourche II, is a continuation of Bayou Lafourche (the first one published) written by Author Rhetta Domingue. Bayou Lafourche II has 300 diabetic/lowfat recipes and 700 Cajun recipes and other ethnic recipes we Cajuns enjoy not found on the first cookbook.
A third Cookbook From Bayou Lafourche to Lumberton will be coming out mid-summer 2011.
Rhetta's continuing work is still inspired by her appreciation for Gods' miracle of healing her of liver cancer.
"I felt that I needed to do something to express my appreciation to God, and the idea of the cookbook came to mind. I made a promise that a percentage of the proceeds from the book would be donated to Ochsner's Hospital in my name, and an additional percentage would be donated to Children's Hospital in my deceased son's name. He died at age 8."
"Our Cajun friends and family love the memories the Bayou Lafourche and Bayou Lafourche II recipes bring to mind of their childhood in Southeast Louisiana. Due to the fact that my father was a diabetic, my mother learned how to convert many Cajun recipes to lowfat/diabetic recipes." - Rhetta Domingue (Read Rhetta's whole story by following the link here).
Bayou Lafourche II is an attractive colorful hardcover 3-ring binder and sells for $29.97 for online orders which includes shipping and handling.
Please write or call 601-796-3296 to make an order.
Rhetta Domingue
20 Norton Road
Lumberton, MS. 39455

Email me at itsallcajun@yahoo.com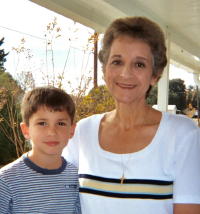 Rhetta Domingue - Author

Rhetta and grandson Rhett