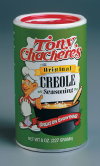 Personal sized, or individual packets are available from various seasoning suppliers. So far I've found some from Tony Chachere's and Tabasco. These are great to ship to our service people overseas since they are pocket sized.
Here's the Tony Chachere's Website Storefront - Click here... Scroll down to the original seasoning blends and the 1st item is Original Creole Seasoning - Case/1000 0.05 oz. Packets for $14.95.
Packets not shown here...
----------------------------------------
Tabasco also has the miniature dispenser at 12 for $6.25. Click here then look on the left for Sauces & Specialty Foods, then Pepper Sauces. Scroll down to the 5th item.
Here is a link to the shipping restrictions published by the U.S. Postal Service.
Click Here...