Grand Isle Polished ® Oysters - Grand Isle, Louisiana
Oyster "polishing" is a technique is used by Louisiana Oyster Farms to produce a cleaner more salty oyster. It involves harvesting oysters from approved reefs and moving them to the farm. The oysters are floated at the surface which allows them to rid themselves of sand and grit, ever-present impurities as they grow in the reef. The ultraviolet rays of the sun also help this process.
Oysters live in the marshy sediment in the bays and bayous of South Louisiana. Some locations have better water flow than others. The better the water flow the better the oyster. As you can imagine the water flow is good at Louisiana Oyster Farms. The good water flow and absence of sand and grit can only produce a better oyster.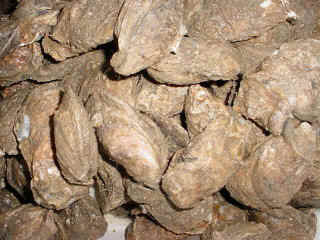 My first experience with Grand Isle Polished Oysters was only a few weeks ago. I purchased them at a local seafood store in Lafayette and they were very delicious and clean. A 10lb. sack was $10.00. The store is Chez Francois and the number is 337-234-8001. I think they only have these during the oyster season (Nov. through Jan.). So if you live here in Lafayette or the surrounding area you can get to them easily. If you're passing through give them a call and pick some up. Just keep them in an ice chest with a little ice and they'll last three or four days.